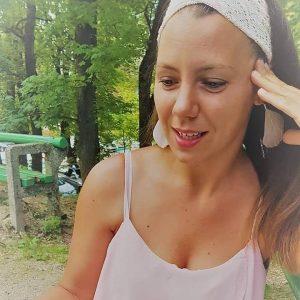 Deni Kragelj holds a degree in social pedagogy, which is a holistic approach concerned with the wellbeing, education and personal growth of individuals. This course is known for its many practical assignments and projects. During her career, the author has gained in-depth knowledge on working with the homeless, psychiatric patients, drug addicts and children with autism. She has carried out projects at the Institute for the Deaf and Hard of Hearing of Ljubljana, the Institute for Blind and Partially Sighted Children Ljubljana, the Malči Belič Youth Care Centre and the Special Education Centre Janez Levec Ljubljana. She successfully completed one-month internships at the Smlednik Educational Community, Radeče Correctional Institution and the Youth Centre Jarše. Deni headed a two-year experiential-pedagogical project for 8 children from socially disadvantaged families. After graduating, she got a job as an educator at the Training, Education and Care Centre Dolfka Boštjančič, Draga (CUDV Draga), where she met with a whole range of problems and special needs of children. She sought different ways and approaches to improve the lives of children with disabilities. She identified the healing benefit of stories which convey a sense of closeness.
Working with children, predominantly with those experiencing behavioural problems, has always been Deni's passion. She strives to build trustful relationships with youngsters and help them overcome their fears. As a mom, educator, and animator, she creates materials which help parents approach the task of improving their children's everyday life. Her experience as animator and long-time event coordinator in Slovenia has greatly aided her in entering the imaginative world of stories. Her goal is to understand children's minds, enter their heads, and plant seeds of imagination. This led her to collaborate with parents and experts to create stories that cover a range of the most topical subjects.
Deni spends her evenings teaching salsa, aerobics, Zumba and Pilates. She is a perfectionist who sets high standards. To relax, Deni enjoys playing the guitar, walking, writing, tidying and creating. Above all, the moments when her son and daughter help her create new stories are priceless. She often surprises people with her views which are based on out-of-the-box thinking and pushing her own limits. She is courageous, determined, persistent, honest and compassionate.
And that's exactly what her stories are like.